For the English-speaking Reader >


Self portrait


by Marc Zaffran/Martin Winckler


Article du 29 avril 2007

On April 20-22, I attended a Narrative Medicine Workshop at the Presbyterian Hospital, Columbia University, New York City (NY). This was the first time in my life I attended a writing workshop and probably the first time that, as an Adult, I wrote so much in English in such a short time. (I also wrote a lot in English when I was a foreign exchange student in Minnesota, in 1972).

Most of what I wrote during those three days will remain confidential, as we agreed not to discuss it outside the workshop because it often involved things our patients or our colleagues had told us. But at one point, one of the speakers showed us a picture. And that picture made us react very strongly. It is an apparently well-known, Pulitzer-Prize winning picture taken by Kevin Carter in Darfur in 1994. After she had shown us that picture, the speaker asked us to write something - anything that got into our mind while we were watching it. Here is the picture, followed by what I wrote.

I dedicate it to the whole group. (With special thanks to Sayantani DasGupta !)

Marc
---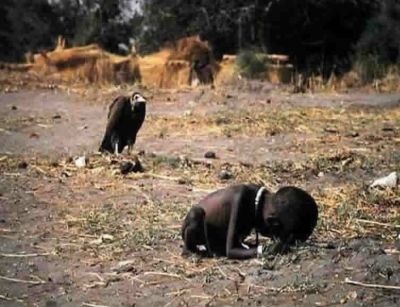 I'm waiting.
She's still got some breath in her.
She doesn't move much, but I can still hear her heartbeat.
She doesn't moan anymore.
She's past that.
It's hot. This is good.
She can't really fight heat.
And her mother can't give her milk anymore.
I'm waiting.
I have all the time I need. She doesn't.
She doesn't know she's dying.
She won't know when she's dead.
I'm waiting.
This is what I do.
This is who I am.
I am a photographer.


Imprimer