For the English-speaking Reader >



Uncommonly Rare Television


Jailhouse Rocks


by Martin Winckler, translation : Luke Sandford


Article du 10 août 2003

Television is more than cultural junk food for the masses ; it can provide a platform for talented artists and creative visionaries. The American series "Oz" is a shining example.

THE setting of the television show Oz is a prison somewhere in America. To improve the inmates' rehabilitation prospects, Tim McManus, resident psychologist and reform advocate, devises a minimum security environment, an open area of free interaction outside cells. This foretaste of freedom is ostensibly designed to help eventual readjustment to society. The prison, officially the Oswald state penitentiary, is known as Oz - referring to the movie The Wizard of Oz, based on Frank L Baum's books.

The open area is Em City (after Oz's Emerald City), since its cells have glass walls rather than bars. Although the plan seems sound, the viewer soon realises that it's wishful thinking. Animals locked up together devour each other. The inmates' ruinous decline takes down those responsible for watching over them : the warden, guards, carers, chaplains.

In management is Leo Glynn, the African-American warden, dedicated but indecisive. His associates illumine contradictions in the penal system. There is McManus, whose motives may not be pure ; Sister Peter Marie (Sister Pete), a psychologist who becomes a nun and works in prisons after her husband is murdered ; Father Mukada, a young priest forever surprised by the prisoners' violent lives ; Gloria Nathan, prison doctor ; and Diane Whittlesey, a single mother forced to work as a guard.

The prisoners are split into racial or ideological groups : African-American gangstas, tattoo-covered bikers, Italian-American wise guys, Aryans (white supremacists) and black Muslims, each group trying to achieve primacy. Alliances are made ; treachery reigns. Drugs circulate freely, smuggled in, at times with the collusion of the guards. The groups, each with its own leader and value system, are racked by power struggles.

Oz has truly repellent characters : Donald Groves, who killed his parents and ate his mother ; Vern Schillinger, an unrepentant racist who burns a swastika on his cellmate's backside ; Shirley Bellinger, on death row after killing her daughter. Some eccentrics stand out from the pack. They include Poet, a rapper who will be paroled if he can get his work published in an African-American anthology ; Kareem Said, a black Muslim who considers himself a political prisoner and inveighs against the US justice system ; Tobias Beecher, a lawyer facing a long sentence for killing a child while driving drunk ; Agamemnon Busmalis, a multiple escapist who uses a spoon to dig a hole in his cell floor ; Ryan O'Reilly, a master manipulator so in love with Dr Nathan he would kill for her ; and Bob Rebadow, a convict who communicates directly with God.
---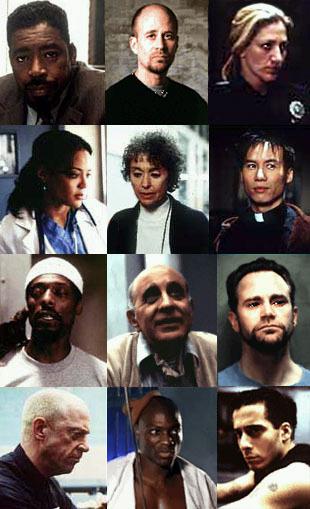 Then there is Augustus Hill, a young man who was thrown from a roof by police after shooting and killing a cop. Now confined to a wheelchair, he is not only a prisoner : he is also the show's guide and author's voice.
Oz is not like anything else on TV. It is like a Greek tragedy. Each episode begins with Augustus sitting facing the camera, TV's invisible wall, speaking the show's name. Like a Greek chorus leader, he seems to speak of other things : family, law, love, liberty. His grating voice and ironic tone are exacerbated by the glass cage in which he is sometimes confined - within the free zone, Em City, which is the agora, the public gathering place of Greece. Augustus (note the Latin name) speaks in metaphors of men and passions while a parade of figures - impassive to out-of-control - passes on screens behind him. We are among the animals, with their deals, hatreds, manipulations, forever seeking to dominate, humiliate or eliminate each other.
Though Oz is only broadcast in France on the Série Club network (via cable or satellite), many have heard of it. Some first saw the show when the M6 channel ran the pilot to accompany an instalment of Zone Interdite about prison life. M6's decision not to show the subsequent episodes was based on that pilot, with its intense physical and psychological violence. Yet there is much more to Oz than violence.
Oz premiered five years ago on HBO, Home Box Office, the leading US cable channel, which runs eight commercial-free episodes of it every year. At the time of this writing, HBO has broadcast 48 episodes, successfully transcending the clichés of violent action series. Using prison as a microcosm, Oz boldly depicts the American cult of violence while addressing faith and God's role in a lawless world ; it is also a reflection on friendship and loyalty between men. It has love affairs, the most intriguing of which links Beecher, the fallen lawyer transformed by prison into a social outcast, and murderer Chris Keller, who betrays Beecher and then pleads for forgiveness. By turns violent and tender, their liaison is one of the most memorable relationships I have ever seen - and I mean seen : their gestures and facial expressions speak, more so than their words. They shatter romantic stereotypes.
Not alone
As with any TV programme of quality, Oz was not born in isolation. Before Oz there was Homicide : Life on the street, which ran on NBC (a major non-cable network) 1993-2000 and had a unique position in television hierarchy. Inspired by journalist David Simon's book on the daily lives of cops and criminals in Baltimore, Maryland, Homicide was shot on location in Baltimore. Significantly, its actors and writers were based primarily in New York, not Hollywood.
The realistic, poetic, and cinematic Homicide, had two executive producers, one of whom was Baltimore-born filmmaker Barry Levinson. Shot in a quasi-documentary style with hand-held cameras, naturalistic sets and actors wearing little makeup, Homicide was beautifully made. It often used false continuity and repeated sequences to underscore emotions, and featured scenes with no dialogue, in which the musical soundtrack provided an offbeat commentary. Innovative, non-conformist, personal and stubborn in its refusal to please, Homicide never managed to top the ratings but it did run for seven years because of its aesthetic power and its many prestigious awards, including three Peabody awards (TV's Pulitzer prize).
The other key player in Homicide was Tom Fontana, a former literature teacher. In the 1980s he was one of the main writers on the edgy series St Elsewhere, which chronicled hospital life in a low-income neighbourhood. Fontana has a reputation for rigorous writing, for realism and for a take-no-prisoners style. In his scripts main characters may die or disappear with little or no notice.
Fontana's style was to have Detective Frank Pembleton (African-American actor Andre Braugher, an Emmy award winner) suffer a stroke and fall into a coma at the end of the fourth season and return weakened, strung out on medication. The show's fifth season featured Fontana's prison riot episode, which reformulated a question earlier asked by a cop : what becomes of the guys they send to the slammer ? Fontana initially answered this by showing an investigation in a prison near Baltimore, where police encounter men they had arrested. This prefigured Oz in its narrative technique, subject and actors, one of whom (Dean Winters) went on to play Ryan O'Reilly, a recurring character on Oz. A year later another Homicide player, Charles S Dutton, took the role of a man responsible for investigating a rampage at Oswald penitentiary.
Fontana's vision is coherent. During his years on St Elsewhere he honed his skills simultaneously manoeuvring his main characters. This skill lies behind Oz's success : given the show's high mortality rate, 15 recurring characters have appeared ; a similar number of characters have been cast in more than one episode ; and many others played supporting roles.
The extraordinary thing is that Fontana, who does most of the writing, never loses sight of his characters. Since each TV season represents a different era in the prisoners' lives, Fontana begins by sketching their individual stories and then weaves the strands together over eight episodes. The result has an astonishing power and narrative flow : even with numerous subplots, viewers never have any trouble keeping track. The sophisticated structure (with a high level of respect for the audience) and its rigorous approach to political, artistic and ethical issues explain why viewers are shocked, intrigued and moved.
Fontana's work-in-progress (the show is still in production) alludes to the prison-like world in which we all live. Like one of Oz's tattoos, this show needles under our skin.
(c) 1997-2003 Le Monde diplomatique


Imprimer